Lot 36 – Lime Rock | Vertical Selection of Pinot Noir, 2006 – 2016
12 x 750ml Bottles | 9 litres
Description
Auction Lot Details
Twelve bottles of Pinot Noir in 2 wooden boxes. Includes White Knuckle Hill Pinot Noir from the standout years, 2007 and 2013 as well as 2009 Pinot Noir that Jancis Robinson put in her Top 100 Red Wines in the World, out of 10,000 wines she tasted in 2012.
Our vineyard on the Central Hawke's Bay limestone hills is suitable for cooler climate wines, especially Pinot Noir. Ecological practices and long- time experience in the industry sets our small company apart. It's more than just wines at Lime Rock, it's a philosophy. It starts in the layers of soil, comes through in the vines and is expressed in the wines. It's our Turangawaewae
Up to 600 characters – this will also be used in 2020 event catalogue
Winemaker
Rosie Butler, Rodger Tynan

Winery
Lime Rock Wines

Website
Additional Details
Our cellar door is small, friendly and intimate. This is Pinot Noir limestone country, shared with Grüner Veltliner, Pinot Gris, Sauvignon Blanc along with Merlot and Cabernet Franc. Often we offer a 'limousine' trip to the top of the vineyard to view the magnificent landscape and explain our 'take' on vitecology. Then always a tasting of our wines in large sumptuous Pinot Noir glasses, along with homemade bread in the cellar door. We enjoy a good yarn. 458 (can have 550)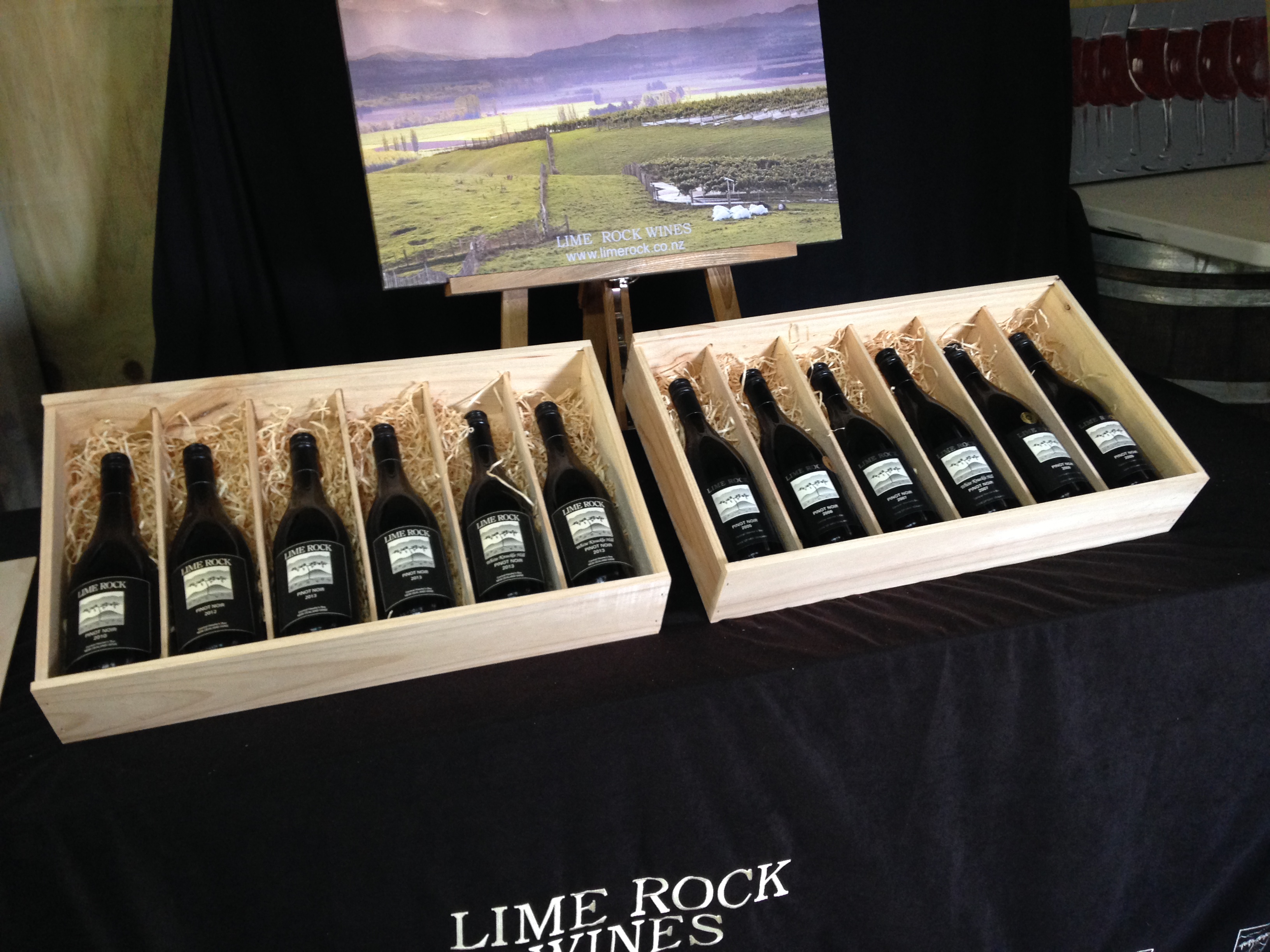 Auction Lot Details
Twelve bottles of Pinot Noir in 2 wooden boxes. Includes White Knuckle Hill Pinot Noir from the standout years, 2007 and 2013 as well as 2009 Pinot Noir that Jancis Robinson put in her Top 100 Red Wines in the World, out of 10,000 wines she tasted in 2012.
Our vineyard on the Central Hawke's Bay limestone hills is suitable for cooler climate wines, especially Pinot Noir. Ecological practices and long-time experience in the industry sets our small company apart. It's more than just wines at Lime Rock, it's a philosophy. It starts in the layers of soil, comes through in the vines and is expressed in the wines. It's our Turangawaewae.
Winemaker
Rosie Butler and Rodger Tynan
Winery
Lime Rock Wines
Website
Additional Details
Our cellar door is small, friendly and intimate. This is Pinot Noir limestone country, shared with Grüner Veltliner, Pinot Gris, Sauvignon Blanc along with Merlot and Cabernet Franc. Often we offer a 'limousine' trip to the top of the vineyard to view the magnificent landscape and explain our 'take' on vitecology. Then always a tasting of our wines in large sumptuous Pinot Noir glasses, along with homemade bread in the cellar door. We enjoy a good yarn.